What is Chalk Schools?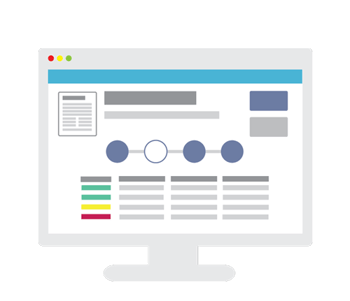 Chalk Schools is a workflow automation platform for K-12 school districts that helps school and district administrators instantly move any paper-based process - including new hire forms, field trip permissions slips, purchasing contracts, IT and facilities requests - entirely online. Started by a former school district administrator who became frustrated by paper-based processes and a computer scientist who specialized in building top quantitative platforms for the finance industry, the Chalk Schools team is passionate about partnering with districts to run all their critical processes online.
---
This is exactly what we have been waiting for, the answer to our prayers!"


Tammy Conway, Eagle County Schools
Why would I use a platform like Chalk Schools instead of paper?
Paper forms are often slow, repetitive, time consuming to process, and are nearly impossible to track. School districts and other educational institutions process millions of paper forms each year, which cost immeasurable hours of staff time.
Signing a form with Chalk Schools, on the other hand, is as easy as clicking a button and enables districts to know exactly which forms have been signed, when, and by whom. Chalk Schools gives districts the speed and visibility to help them run at their best. Meet some of our customers to hear their stories.
How is Chalk Schools different from other digital archiving or paperless forms products?
Chalk Schools is totally customizable, requires minimal set-up time, and is 100% built for K-12. Learn more about our platform or connect with us so we can hear more about what you're trying to do for your district.
I'm an administrator at my school. How do I get my district started on Chalk forms?
Thank you for considering Chalk Schools for your district! To get started, schedule a product demo with one of our District Specialists, who can speak with you about the processes you're looking to move online.
What kinds of forms can Chalk Schools process?
Chalk was designed for flexibility. We've worked with districts to process a variety of forms, including:
New hire packets and onboarding paperwork
Personnel action and requisitions
Travel and conference requests
Mileage and general reimbursement requests
Student registration
Field trip requests
Acceptable use policies
Time sheets
Because we built Chalk Schools specifically for school districts, chances are we've worked with the kind of form you need.
Can Chalk Schools handle routing or forms with multiple approvers?
Yes. The Chalk Schools platform was built to support both simple and complex processes. Whether your form requires one or many signatures and approvals, setting up document routing is easy with Chalk Schools.
Can you add attachments to Chalk Schools forms, like receipts or related documents?
Yes. Our simple attachment tool also makes it easy to collect attachments, along with a submitted form, so everything related to the process can be kept in one place.
Do you need a Chalk Schools account in order to fill out and sign a form?
No. Form recipients access each Chalk Schools form through a secure link that can be shared via email or posted online. Once a form has been completed, the person filling out the form can email themselves a copy or save it to their desktop for their records.
What if I have more than one email address on file for contact information?
Distribute forms to as many contacts as you like. If there's more than one person who can sign or fill out a request, then the same document can go to all contacts at once and will show as complete as soon as one contact has filled it out.
Can I import any data I already have to quickly pre-fill certain fields on my forms?
Yes. You can upload any pre-existing data into Chalk Schools, using a list or spreadsheet. Use the pre-loaded information to personalize or pre-fill forms for your recipients, to make it quick and easy for your forms to be completed.
What kind of data and student/recipient information can I upload into Chalk Schools?
Here is just a sample of the kinds of information you can store and process digitally through Chalk Schools forms:
Name: Track the status of each person's form by name
Email: Send forms to multiple email addresses at one time
ID Number: Allow individuals to access form or forms you need them to fill out and sign through a link that they can only access with the unique ID number you assign to them (like their existing student ID).
Personalized information: Generate a custom form for each person, pre-filled with any personal information you already have. For example, address, emergency contact number, or class period.
Do I need to create an account with Chalk Schools?
The only people who need to have an account with Chalk Schools are people who manage forms on behalf of their school or district. If you need to get started as a form manager for your school or district, please see below to learn how to request an account.
I'm a new form manager. How do I create a new Chalk Schools account?
Chalk Schools accounts are only created for form managers associated with a school or district that is already set up to partner with Chalk Schools. To get started as a new form manager, request a new account. Once we receive your request, we will verify your information and alert you once your account has been activated.
If your school or district hasn't yet partnered with Chalk Schools to manage paperwork online, ask your department administrator to schedule a web demo. You can learn more about Chalk Schools by visiting our product page and meeting some of our customers.
I forgot my password. What should I do?
If you forgot your password, please follow the instructions below on how to reset your password.
How do I reset my password?
If you already have an activated Chalk Schools account and need to reset your password, please submit a new password and follow the instructions on the page and in your password reset confirmation email.
I need to fill out a Chalk Schools form, but lost the link. Where can I find it?
Please contact your school or district office and ask them to provide the link to the form you need to find. If you're not sure who to contact at your district office for help, please email support@chalkschools.comand include the following information:
Your name
Your email address
The name of your school or district
The name of the form you are trying to find
We will do our best to find the right form for you, as soon as possible.
I have questions about the Chalk Schools form sent to me by my school or district.
If you have questions about why you received a certain form, what the form is for, or if you have questions about how to complete and fill out your form, please contact your school or district office for help.
What happens to the information I submit through a Chalk Schools form?
The data and information submitted through a Chalk Schools online form are controlled by the school or district that sent the form. Chalk Schools simply helps this information get sent to your school or district, safely and securely, online. Please see frequently asked questions about the security of our platform for more information.
How can I view a submitted Chalk Schools form so I can see what I sent?
Please check the inbox of the email address you used to complete the Chalk Schools form for a confirmation message, which contains a link to your completed form. You're also always able to download a PDF of the completed form, once you submit your Chalk Schools form online.
If you need to access a completed form and you're unable to locate it in your inbox or did not use an email address to complete your form, please contact the school or district that sent the form. Because we value the security and privacy of the information collected by your school or district, we are unable to share links to completed forms. Please visit our privacy policy to learn more.
If you would simply like to verify your form submission, please contact us at support@chalkschools.comor call us at +1 (929) 32-CHALK.
Is the electronic signature used on the Chalk Schools form filler a legal signature?
Yes. The U.S. Federal ESIGN Act, enacted June 30, 2000, defines an electronic signatures as "electronic sound, symbol, or process, attached to or logically associated with a contract or other record and executed or adopted by a person with the intent to sign the record." Electronic signatures are legally binding in the U.S. and in many other countries. Our e-signature requires a two-step confirmation process and we further store the exact time, location, and IP address of the completed signature.
Are you FERPA/HIPAA compliant?
Yes. We understand that schools handle sensitive staff and student information on a regular basis. We have designed our system in accordance with FERPA/HIPAA guidelines and have taken significant measures to protect and secure our users' data.
How do you ensure the privacy and security of data?
We never share or disclose any information publicly and all data are encrypted before being stored in our database. Data are transferred securely to and from our servers via industry-standard SSL encryption. Each message sent through our system is further protected with a personalized token that ensures each recipient is only able to view his or her specific document.

The cloud application platform and data center operations we use have been accredited under:

ISO 27001
SOC 1 and SOC 2/SSAE 16/ISAE 3402
PCI Level 1
FISMA Moderate
Sarbanes-Oxley (SOX)

Please see our privacy policy for more information.
How much does Chalk Schools cost? Do you offer school, district, or organization-wide plans?
We are happy to work with any number of schools and offices directly. Contact us athello@chalkschools.com or +1 (929) 32-CHALK to discuss your needs and your plans for taking your district, school, or organization paperless.