Banning Unified School District was working with Chalk Schools to automate the district's Personnel Action Request forms and saw great potential for their Acceptable Use Policy (AUP) forms, annual forms requiring signature that detail the district's technology policies. Within two days of approval, their electronic AUP forms were live, eliminating an outdated paper process, saving weeks of follow-up time, and resulting in outstanding feedback from district personnel.
An Inefficient Paper Process
For Banning, the process of collecting AUP forms on paper was cumbersome. Banning's District Secretary generated a list of employees for every school site, printed a form for each employee, and delivered these forms one by one to employee mailboxes. After employees signed the paper forms, they returned them to the District Secretary who marked the names off her list. Once she received every form, she returned them to Banning's IT department. By streamlining this process, Banning wanted to save both time and resources.
One of Banning's biggest concerns was tracking down missing forms. Following up with employees who hadn't returned their signed forms took months with their existing workflow. They also sought a solution that was more efficient from a filing standpoint. Before Chalk, paper forms were stored in oversized binders (Banning had SEVEN YEARS worth of AUP documents stored in large binders!) and individual forms were nearly impossible to find during audits.
48 hour Turnaround
When Banning decided to automate important district workflows, they chose Chalk Schools because Chalk was fast, easy to use and had robust tracking features. Chalk's relationship-focused and fast-acting customer success team also came highly-recommended.
Mac Patel, Banning's Director of IT, reached out to Chalk to discuss the district's Acceptable Use Policy needs. Shortly after their phone call, he received a proposal from Chalk. Mac brought the proposal to his cabinet for approval and explained how going paperless would benefit their district.
Once approved, Banning's electronic Acceptable Use Policy forms were up and running within 2 days. Chalk received a .PDF version of Banning's AUP form and assisted them in converting it to an electronic fillable form. They helped Banning test the form internally and two days later, it was live.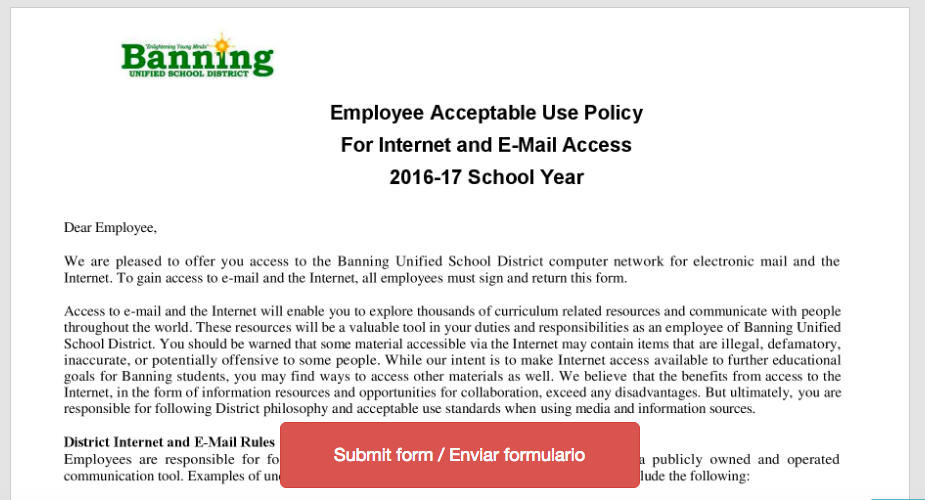 electronic solution with exciting results
For Banning, the decision to automate their AUP forms has paid off tenfold. Of the 500 electronic forms sent to employees, nearly half were received back within the first week. Chalk's easy-to-use tracking feature gives Banning the ability to send email reminders to employees, allowing them to follow up on missing forms with the click of a mouse. Completed AUP forms are saved in searchable folders in the cloud, eliminating the need for unwieldy paper files.
Banning has received outstanding feedback from staff who love completing AUP forms online. So far, dozens of Banning employees have given the form a virtual thumbs up via Chalk's "like" feature. Individuals are also able to comment on the form, with many employees leaving complimentary feedback in the comments section.

---
Get started with Chalk Schools by scheduling a free 15 minute web demo with one of our district specialists.
Are you a current customer who would like to automate your Acceptable Use Policy workflow? Drop us a line at support@chalkschools.com!